Hello to all of our Pretty Little Peacocks
Welcome to Pinque Peacock's
April
New Release
BLOG HOP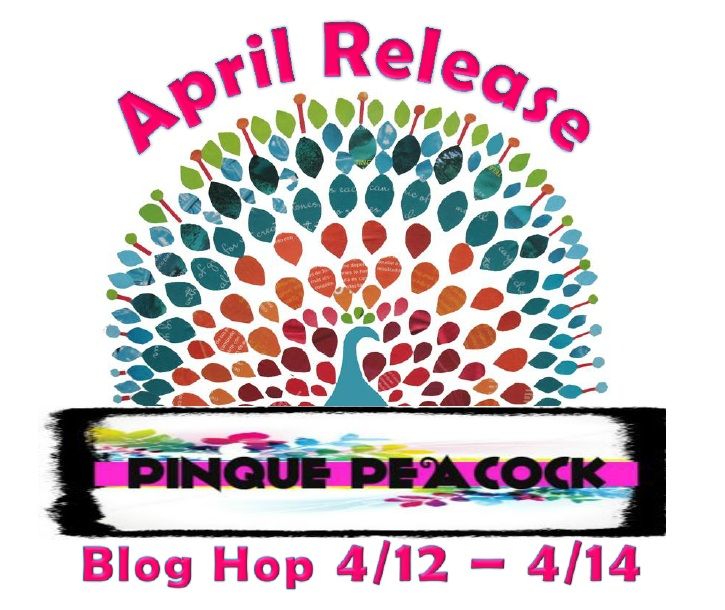 We hope you will enjoy your time as you hop and that you feel inspired to create after visiting the Talented Pinquettes' Blogs! This hop will showcase projects that have been created using some of the April NEW RELEASE Products from Pinque Peacock.
We are thrilled to have you joining us this month as this is a very special New Release of products and we are all so very excited to share it all with you! Our April Release is full of beautiful color palettes, wonderful inspiration from the Pinquettes, and fabulous sparkle and shine as we celebrate
PEACOCKS
.
After hopping, be sure to visit the
Pinque Peacock Shop on FB
to order the New Release items to jazz up tons of your projects.
You should have hopped over here from
Beckie
, if not make sure you start at the Pinque Peacock page.
So I have been in an altering mood lately, so I found this tin at Target for $.30, it had a green ribbon on it for the handle and I just removed that to make it this....
I had to hang it in my bathroom so you could see the handle :)
Here is a close up of the side.
I rethreaded ribbon in the handle and used that same ribbon for the band around the middle. I then raided my flower and bling stash. I just used my finger to space out the bling at the bottom. Then the special part :) The center of the cream flower is the new Fabric covered buttons at
Pinque Peacock
.
So that is my project make sure to hop over to
Lisa
next.
I am also entering this into the
Little Scrap Pieces Fun Friday Challenge May Flowers.
You also will want to stop back on Monday, to see our announcement of another Prize Giveaway that will be available as we sponsor the Craftin Desert Divas' Newest Link It Up Party!
!!!!Now, let's talk PRIZES!!!!
One winner, who has hopped all 3 days (Friday, Saturday, and Sunday) of our Pinque Peacock April New Release and followed the RULES BELOW will win this . . . .
$15.00 PAQ BUNDLE PRIZE
which includes all of this . . . .
(4) Beaded Stick Pins
(6) Large Felt Poppers
(2) Layered Garden Beauties
(2) Large 1.5" Fabric Covered Buttons (FCB)
(6) Small 3/4" Fabric Covered Buttons (FCB)
(1) 2.5" Splendid Swirl (w/Embellished Center)
Do YOU want to WIN?
Here is How****:
1 –
Hop to ALL of the stops
over the course of the 3 Day Hop and
comment
at each Pinquette Blog (Lineup for all 3 Days is below)
2 –
Follow
the Pinque Peacock Blog and Facebook Page/Shop
3 –
Follow EACH of the Pinquettes' Personal Blogs
who are participating as Hop Stops this weekend.
****You MUST do ALL of the steps above to be included in the random drawing for the prize. We would hate for you to lose out on winning just because you didn't follow these easy rules :( ****
The Hop will remain open until Wednesday, April 17th, at 8:00 a.m. EST.
The random drawing will be held sometime during that week that follows and announced by April 24th.
Now, if you find yourself Hopping off the Path on any of the three days, you can use this Lineup to get back on the Right Track . . .
DAY 1 (4/12/13):
Pinque Peacock ~
http://pinquepeacock.blogspot.com
Donna ~
http://createdbydonnak.blogspot.com/
Jennifer ~
http://www.jennspapercrafts.blogspot.com/
Kimberly P ~
http://scrappingrookie.blogspot.com
Nupur ~
http://downthememorylane9008.blogspot.com/
DAY 2 (4/13/13):
Pinque Peacock ~
http://pinquepeacock.blogspot.com
Susie ~
http://scrappyrandomness.blogspot.com/
Marji ~
http://www.fstampaholic.blogspot.com/
Robin ~
http://www.thecricutscrapper.blogspot.com/
Teresa ~
http://www.createenjoyshare.blogspot.com/
DAY 3 (4/14/13):
Pinque Peacock ~
http://pinquepeacock.blogspot.com
Beckie ~
http://justbcreativecrazy.blogspot.com/
Jessie M ~
http://edoggsugarlipsandprincessbuttercup.blogspot.com
Lisa ~
http://mycraftyspaces.blogspot.com/
Rebecca ~
http://bloomingpink.blogspot.com/
Jessica ~
http://jessicascraftshaque.blogspot.com
Thank You for hopping along and we hope you had Loads of Fun!
Peacock Hugs
~jessica
~ ~ ~ ~ ~ ~ ~ ~ ~ ~ ~ ~ ~
For a Quick Reference, Here is a Full List of all the Pinquette Artists' Blogs
so you can stop in and visit :)